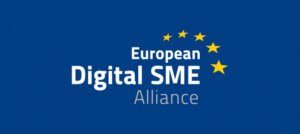 At the event of new technological advances and pandemic consequences on the field of new skills for crafts and employees, ACADEMY AVIGNON strengthens its ties with European stakeholders, focused on the digital adaptation of SMEs and reduction of digital gap on the economy.
The European DIGITAL SME Alliance is the largest network of the small and medium sized ICT enterprises in Europe, representing about 20,000 digital SMEs. The alliance is the joint effort of 30 national and regional SME associations from EU member states and neighbouring countries to put digital SME at the center of the EU agenda.
The SME Avignon Academy will collaborate with SME Digital Alliance in the field of digital transformation of SMEs in Europe via training activities, organizational capacity building, studies, research and surveys, information campaigns, and technical and scientific partnerships, aiming at implementing the European policies for Craft and SME and at anticipating and at indicating changes and new trends in the SMEs and craft skills needs.
These will support the arguments put forward in position papers as well as in political interventions and discussions in policy areas of strategic relevance to craft firms and SMEs including, amongst others, digital transition, trade, cooperation, energy efficiency, the circular economy, social and economic dialogue, internal market, as well as other areas which might meet SMEs organizations' needs and interests.
Secr. General of Academy Avignon Claudio Cappellini emphasized the potential of such collaboration for the improvement of policy recommendations in the field of continuous vocational training and SMEs smooth digital transition.